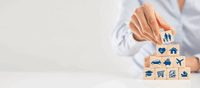 Personal Insurance and Risk Services
Make sure your family and lifestyle is secure with the right
insurance protection and policies.
Secure your family's financial future with the right personal insurance
---
---
Life is full of surprises. The last couple of years have proven that sometimes those surprises are unfortunate and our personal situations can change very quickly.
If anything it has shown us that Protecting your family and your lifestyle is important.
Life Insurance, Total Disability Insurance, Trauma Insurance, and Income Protection. What do they do and what is the right mix? How do you create a meaningful insurance portfolio that is right for your situation?
FM Financial has skilled advisers who are experienced in assisting clients in building adequate protection, reducing risk and creating a sense of security for their family and lifestyle.
FM Financial has a strong history of expertise in this area. With our access to a range of different providers we can help you create the right portfolio for you that meets your budget.
---
In a free consultation meeting we can take you through the process we work through with our clients, and the information needed to provide you with the appropriate level of insurance.
---
---
The benefits of reviewing your insurance with FM Financial
---
---
What insurance do I actually need?
---
Together with your FM Financial Adviser you can work out what potential risks you may face and what insurance protection would be suitable to secure yours and your families future.
Assess your current potential risks

Discuss and evaluate your future financial goals

Clarify your insurance cover and what it would mean for you

Confirm gaps in your Insurance

Create a plan to ensure you have the right insurance in place and understand the reasons why
FM Financial provides personal insurance guidance to provide financial security.
---
We can help you with areas including:
Life Insurance

Income Protection

Total & Permanent Disability Insurance

Trauma Insurance

Estate Planning
---
---
Life insurance can help to financially protect you and your family in the case of an unforeseen situation.
What is it? Life insurance provides your family with a lump sum payment when you die. This lump sum payment can be used for a great variety of things such as:
to cover your debts (including your mortgage)

to supply an income stream for your family to assist a long term stay at home spouse with education expenses for employment

to assist your family to transition to a new normal with childcare expenses, school expenses, etc

to assist with the costs of your funeral

to equalise your estate in there is illiquid assets or assets that are undesirable to realise (such as a farm or a company)

To protect the shareholders in your business
Life can be so unpredictable. COVID19 has really shown us that, especially when we look at the impact overseas. It is not just COVID that impacts us however, Cancer is still the number one claim for Life insurance in Australia at 43% of all claims ($1,580,700,000 paid out in 2019 alone).
A more startling statistic is that the second most common cause of a life insurance claim in Australia is accident. Accidental death is responsible for 17% of all claims in 2019. It is these accidents that leave families and businesses in unplanned situations with a reliance on life insurance. It is these times that the best advice and a well constructed and constantly reviewed portfolio is critical.
There are many different life insurance policies and ownership structures that we can guide you through. You don't know what is going to happen in the future, so it's important to make sure you and your family are financially secured no matter what happens.
---
---
---
---
Reduce your financial stress if you are unable to work due to accident or illness
What is the most important asset you will ever own? What about your house? Your car? A small business?
How about your ability to earn an income? If you were unable to earn an income then would you be able to have anything?
Income protection is different to other personal insurances in that it provides you with an income stream if you are unable to work in your normal occupation. It is designed to be able to claim on when needed and mostly meet your monthly budget. The last thing you need to worry about is when your sick leave runs out, especially if it is going to take you a while to get back to work.
Income protection is a rapidly changing environment thanks to APRA's changes and insurance companies are providing new policies that protect in different ways all the time now. Even if you have Income Protection there has literally never been a more important time to have it reviewed to ensure it is contemporary and affordable for what it provides.
---
Total & Permanent Disability (TPD) Insurance (Part of Life Insurance)
---
---
---
If you are unable to or unlikely to work again due to a disability, accident or illness you're still financially secured.
How do you value a life? What value do you place on your future if you cannot work and have to forgo all the income you would ever receive again? What amount of money do you actually need to survive? These questions are almost impossible to answer however consideration must be taken to them if you are to protect yourself.
In many ways, TPD insurance is similar to life insurance with one notable exception – you are still alive. It can be used in a similar fashion as life insurance such as:
to cover your debts (including your mortgage)

to supply an income stream for your family to assist a long term stay at home spouse with education expenses for employment

to assist your family to transition to a new normal with childcare expenses, school expenses, etc
However because you are still alive it has a greater application:
to assist with the costs of your medical care

to assist with modifications to your home, your transport, your life

to ensure you have choices about what level of care and rehabilitation you receive
TPD is becoming a more important insurance to consider in these times. In 2019 90% of all claims were paid but the leading cause of claim was for mental health…in fact 25% of all claims were for mental health paying out $649,200,000 in benefits to people that need it to fund their ongoing care and life. These benefits provided the claimants with options and reduced the financial stress on their loved ones and families.
---
---
---
Have immediate medical expenses and other financial needs covered with Trauma insurance
Usually when someone suffers a trauma they want the best possible care they can get to recover. Trauma assists with that. Trauma was invented by Dr Marius Barnard (brother of Christian Barnard – the first surgeon to perform open heart surgery in the world) in South Africa in 1984. He became upset with the amount of patients he was treating that were returning to work prematurely because they could not afford to stay at home an recover. These patients were dying of completely preventable illness because they needed to earn an income.
Today very little has changed in the world to negate the importance of trauma for this very reason. Trauma is a policy designed to cover for immediate expenses in the event that a medical catastrophe occurs.
The leading causes of claim on these policies in 2019 was for Cancer (58% of claims or $609,200,000 in benefits) and heart attack / stroke / coronary artery disease and other circulatory system issues (24% of claims or $249,200,000). More importantly – the average age of the claimant on these policies is 47 years old.
A good trauma policy – in conjunction with income protection and TPD – can ensure that all your financial risks are mitigated as best as they can be.
---
How do we help?
---
Our core objectives are to help you build, manage, and protect your wealth while providing tailored financial advice based on your specific situation and goals for the future.
We develop and action a tailored financial plan that includes superannuation and retirement to help achieve the goals you outline in our planning session.
The plan that we develop for you considers:
Your individual goals

Your current and future lifestyle preferences

Your current financial situation
In our initial planning meeting, we focus on understanding what you want your retirement years to look like and how we help you achieve your vision.
Our financial planners help:
---
Understand & clarify your vision

Review your financial position

Develop a unique action plan with clear objectives to achieve for retirement

Review and adjust your plan over time
Dealing with Robert allows me to be calm & relaxed about by finances. He is very helpful and always returns calls quickly. I can rely on him.
Judy.
---
---
Personal insurance is a key area to maintaining and protecting your family's financial situation in the case of an unforeseen situation. Find out how you could better protect your future with FM Financial.
---
---