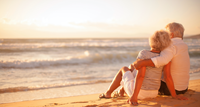 Retirement Planning Services
Everyone has a different vision of their retirement, so it is important to have a plan that allows you to make the right financial decisions for you for both now and the future.
Plan the stress-free retirement you deserve
---
---
There are many strategies to help you achieve your goals and the planning should begin well before you take the formal step towards Retirement.
That's why we create a tailored retirement plan to help you achieve your retirement lifestyle and goals
Planning for your retirement can be stressful & confusing, meet with an FM Financial Planner to help you make the right decisions.
---
---
Do you have a retirement plan?

Know how much money you will need?

Have you considered the lifestyle you'd like for your retirement?

Have you thought through the different stages of retirement from celebrating your financial freedom through to aged care considerations and estate planning?

When you speak to an FM financial adviser we can make sure you understand and are fully prepared for all the stages of your retirement journey.
---
---
In a free consultation meeting we can take you through the process we work through with our clients, and the information needed to create your individual financial plan, including your goals and plans for retirement.
---
---
The benefits of building your retirement strategy with FM Financial
---
---
Our Retirement Strategy Benefits
---
Have a clear plan for your retirement years
Achieve Your Retirement Goals
Understand all areas of Financial Planning and the benefits for you and your family
There are many ways to plan for the retirement years of your life.
---
We can help you with areas including:
Cash Flow and Cash Flow Management

Estate Planning

Transition to Retirement

Centrelink
---
---
Our fundamental objectives are to help build, manage, protect your wealth, and provide tailored financial planning advice based on your individual needs and situation.
We will develop and action a tailored financial retirement plan to achieve your goals.
Your retirement goals are unique to you. The plan we develop for you factors in:
Your individual goals

Your lifestyle preferences

Your current financial situation
In our initial planning meeting, we focus on understanding what you want your retirement years to look like and how we help you achieve your vision.
Our financial planners help:
---
Understand & clarify your vision

Review your financial position

Develop a unique action plan with clear objectives to achieve for retirement

Review and adjust your plan over time
I rely on my Adviser to give me peace of mind when it comes to my financial well being. I have learnt that I can trust him and look forward to a good retirement. Thank you!
Dawn.
---
---
You've spent a lifetime working hard for your money, with the right financial plan developed by our trusted advisors, you'll live the retirement you deserve.
---
---